Automatic Ice Handling System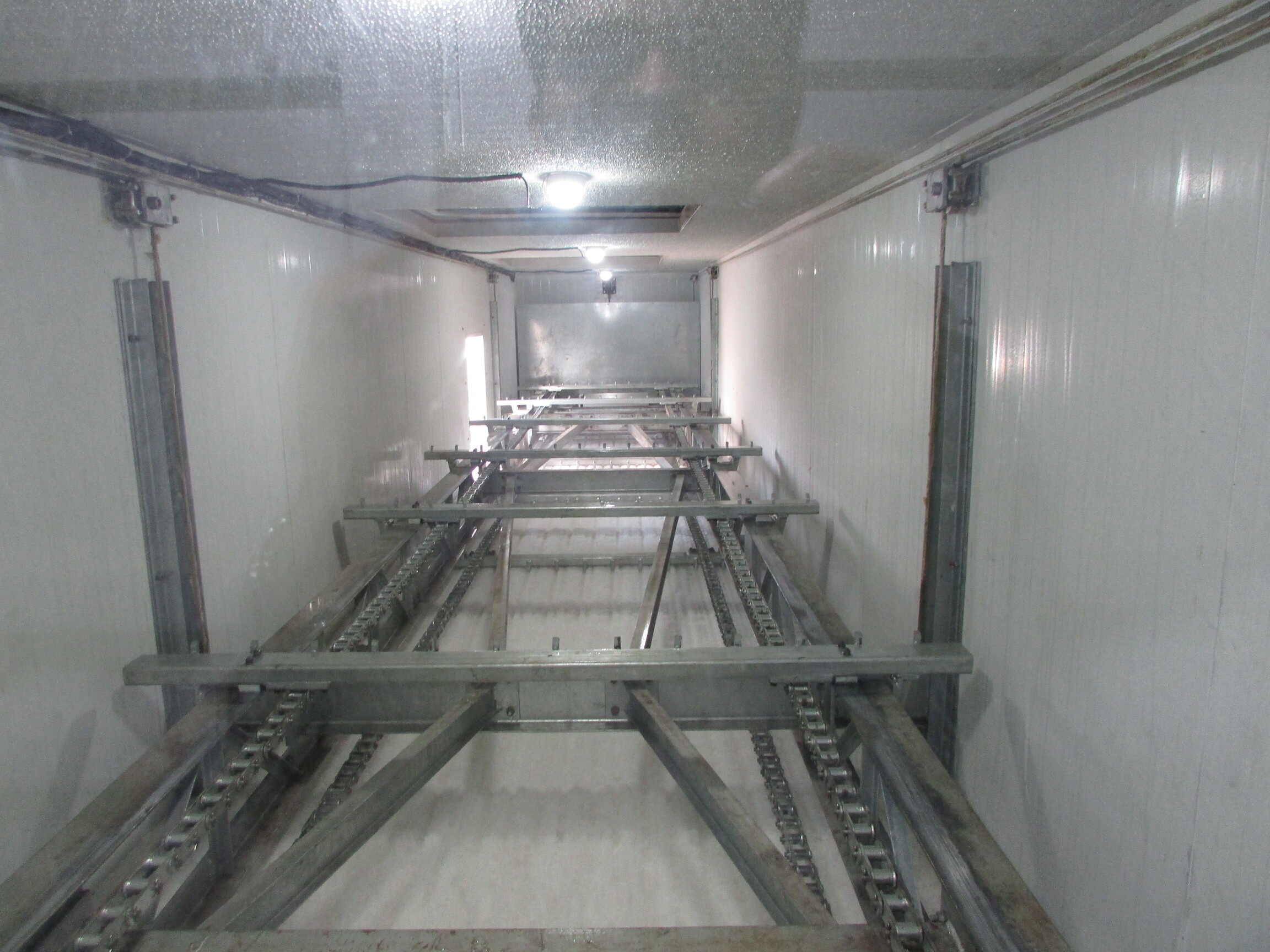 Applications : Chemicals Pigments & Dyestuff, Fish processing export industries, chicken & Meat processing, For concrete cooling application like Nuclear & Hydroelectric power plants, Heavy Dam Construction.

Storage & Distribution Capacity : 30 Ton to 200 Tons
Material of constructions : Ice contact parts in Hot dip galvanized & Stainless stee

Delivery Type :
Mechanical Conveying
Pneumatic Conveying
Delivery Rate :
5 to 40 Tons per hr
Equipments Manufactured :
Rectangular Link Conveyor (RLC) / Rake,
Containerized Rake,
Day Tank,
Screw Conveyor,
Pneumatic Conveyors
How Automatic Ice Handling System Work:
Flake or Tube ice makers are installed above the Poly Urethane Foam (PUF) insulated ice storage room and automatic Rectangular link conveyors (RLC) is installed inside it.
RLC moves in the reverse & froward direction & also in the up & down direction and levels the ice in the storage. These movements & the complete conveying system are PLC controlled as per ice requirement of users.
Mechanical conveying:: Can be use both for Flake & Tube Ice
In the first cycle of filling, the ice falls in the storage room & uniformly distributed in the storage room by the movements of RLC.
In the second cycle of delivery the RLC moves in the forward direction to deliver the ice in the discharge screw conveyor (DSC) installed at one end of the RLC, for onward delivery to the use points, such as reaction vessels in chemical industries or Batching plants in the concrete cooling applications
This system is mainly used, when all the plants are located in a straight line, may be on multi floors.
Pneumatic conveying system: Can be used only for Flake ice & cannot be used for Tube Ice.
Flake ice after the DSC is fed to a constant flow Rotary valve & pushed out or conveyed to the use points such as reaction vessel or batching plant mixer with pressure at about 0.8 bar.
Pneumatic conveying is very useful for multi-use points and use points located in zigzag manner at elevated locations. Long distance deliveries possible up to 400 meters.
Features:

Robust and Proven simple design construction
Conveying system is PLC controlled, hence ensures the automatic troublefree operation.
Reduces manpower requirement, eliminates human error and wastage.
Also supplied with standard containerized or fabricated ice storage room.
Ice conveying possible for long distances.
By use of PEPL cooling unit, ice storage temperature can be maintained up to (-)8°C
Standard Modules Available :
S. No.
Model
Nominal storage
capacity (Tons)
Ice Delivery
Rate - TPH
1
PE-IH-40
40
5 to 30
2
PE-IH-50
50
5 to 30
3
PE-IH-60
60
5 to 30
4
PE-IH-80
80
5 to 30
5
PE-IH-100
100
5 to 30
6
PE-IH-125
125
5 to 30
7
PE-IH-150
150
5 to 30
8
PE-IH-200
200
5 to 30
Note :
Triangular rakes will have approx 50% storage capacity with room sizes same as above.
Triangular rakes are advisable up to 60 Ton storage capacity.